July 17
Torugart Pass, China
64 km
5745 km total
Border crossing drama with peace corps guys Ben and Mike.
It's not over yet. Yes, we've cleared the border, but Chinese customs lies ahead of us. Despite a pit in my stomach from the anxiety, I'm in awe. Yeah! We're in China! Taking it all in, we slowly pedal down the single lane road lined with trucks waiting to drop their load—a mirror image of the Krygyzstan side. Even the people look similar. Kind of Asian. Kind of Turk-like.
Ok. It's go time. We're passing a row of storefronts and shacks. Halfway down is a Chinese flag flying outside. We've left Ben and Mike behind, thinking they'd be more of a liability getting us through on this side. Wearing our "China Tour" hats and IAX jerseys, we approach the customs office. Incredibly, the Chinese lady is quite congenial, but obviously confused by the six names on our invite and only two guys in front of her. We give her the run-around, explaining that Ben and Mike are coming shortly, and that the two other guys are deathly sick because of the terrible Russian food. She gets it and laughs when we do the sick as a dog mime thing. She moves us from room to room, making us wait, and wait some more. All of a sudden, she returns with our passports and tells us we are free to go. Of all the stories I'd read about Chinese authorities messing with us, this wasn't what I expected. Finding a bank, we change some mone than get out of there fast, still looking over our shoulder for the spy vehicle. The road is empty. Dusty red clay riverbanks weave their way down river ahead.
Then it comes. A truck comes trundling up behind us, dust swirling, horn honking. Oh no. Here we go. It honks some more, forcing us to stop. To our joy, it's Ben and Mike. They, too, got through without a hitch, and thanks to our official invitation. Slowing to say goodbye, we stop for a photo, and give our "China Tour" hats to a couple of kids who have stopped to check us out.
Still a bit paranoid, we put some miles behind us and the border, then make camp out of site from the road, on a sandbar below the river bank. Cooking our remaining pasta, we're pretty much out of food. This is okay. Tomorrow we'll be in Kashgar. I write in my journal till after dark, still expecting someone to find us.
July 18
120 km
5865 km total
Pull up into John's Cafe at Seman Hotel. Meet John Hannon, from Vancouver. Go for cay at Uyquer cafe later that night.
It's one of those, "on-fumes" days. Not much food left, but with lots of desire, we haul our way into Kashgar, passing fields and increasingly frequent donkey carts as we get close. Having the Lonely Planet's guide to the Karakoram Highway is a help. At least we have a few places to stay in mind and a city map ahead of time. We've mowed the mileage down by early afternoon.
We've chosen the Seman Hotel, which, we learn, was once the Russian embassy during the days of the "Great Game". Up the street is the Qin Bagh hotel, once the British counterpart during that intriguing period of history. I sign the registry, "Neil Young, occupation: Hollywood stuntman", just to mess with them. Maybe Brent will notice this when, if, he gets here.
Savoring a Coke on the outdoor patio, we're taking in the scenery still wearing five days of road filth. Lots of activity. Backpackers come and go. Feels good. We haven't really seen backpackers yet on this trip. Just then a jeep full of them pulls up beside the hotel. A guy about thirty gets out wearing a "UBC" sweatshirt. Ha. A Canadian. We introduce ourselves and enjoy a good chat with him. He's been studying Mandarin in Beijing for the last three months and came out here for a vacation. He's definitely got a bit of an edge on—been in the country too long maybe. But he's good for a story. "Have you seen anyone shitting in the street yet? You will. You will." I buy him a beer and we hit if off with more stories of his time in China.
That night he takes us, Ben and Mike (who arrived yesterday) to the Uiguer night market next to the Ida Kah mosque for a huge bowl of rice and stir fry. Delicious. What a bizarre scene. The five of us are around a table piled high with plates of laghman, pilov, fried fish and rice. Around us six televisions play six different violent movies, each with the volume blaring through loud speakers into the market. John argues with the waitress when she raises the price of beer from three to three and a half yuan. Suddenly we're surrounded by a pack of local Uighurs. It's dark and noisy. Not wanting a knife in the back, we relent, each paying the extra dollar and getting out of there fast.
He and I later pound back way too many drinks back at the hotel. My first piss-up since Whistler.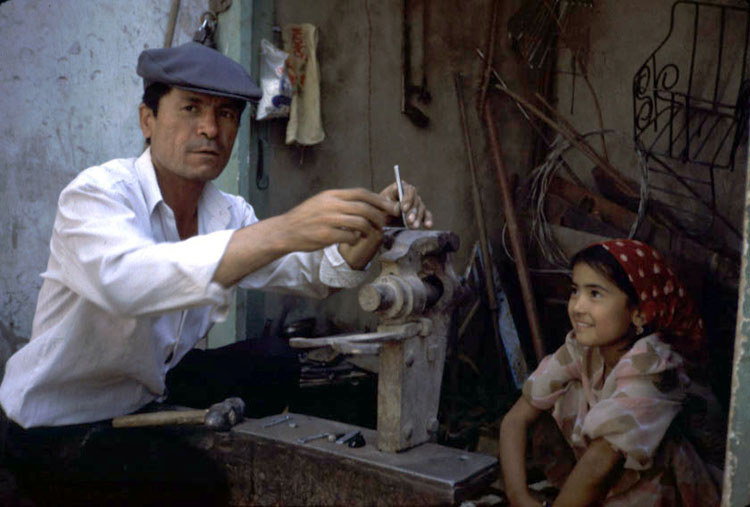 July 21
Ghez, China
135 km
6000 km total
Leave Kashgar with manager dragging off back of bikes. Want 200 yuan for shower damage. No problem at Ghez checkpoint despite our paranoia.
We rise early to avoid further confrontation with the floor lady and her allegations of the shower damage. It is foggy outside. Quietly we carry loads of baggage to the lobby, heavy with yesterday's food shop. There is little said as we bring load after load, but the silence of the morning lobby erupts at the appearance of our bicycles. We quickly hook the bags on and strap on the rest while the lobby manager sends for help. "you must pay two hundred yuan!" she repeats, but we take turns ignoring and arguing with her. Her list has expanded, fining us now for piling the cushions and breaking the television.
Asking where we are going, we lie and say we must leave quickly to catch a bus to Urumqi. She is suspect, and wants to see our tickets. We refuse, using the Jedi mind trick, "you don't want to see out tickets." The level of chaos escalates as clearly we plan to leave without paying the contrived fine. My final image of the Seman hotel is of the lobby manager pulling on the back of my bike as I bounce it down the stairs to the street. I grab her arm, give her a good shove, and look for Alex in the street.
Paranoia weighs on us through the morning. Every uniformed officer, and there are hundreds, seems to look at us for too long for comfort. How easy it would to be to apprehend the shower busting fugitive American velotourists. In Upal, an outlying village, we stop for a noodle lunch. The noodle maker bangs the dough on the table to string them into lengths. We are beginning to calm down when sirens fill the air, drowning out the screeching of donkeys hanging from carts. The moments pass with each of us dreaming up our escape plan, but the cars continue past the noodle stop.
The fog from Kashgar still shrouds the countryside. So widespread that it seems more like a dust cloud. Dusty, and dry, that we have had to oil our chains every day since entering China. There is little to see but desert plains and river valley cliffs. Occasionally we speed past crews of road workers. Armed only with shovels, it is not clear what road maintenance they are working. Each one picks gingerly at weeds and bits of gravel that have intruded the river. Meanwhile, a 100m section of the road has been claimed by the Ghez river, forcing a rocky detour 50m to the west. Somehow a truck, loaded to twice its capacity and bouncing it's passengers clinging to it's cargo, narrowly avoids being toppled by the makeshift detour. Amazed at the stupidity and determination of the truck, I stand and watch the ordeal from behind, standing well clear of the truck as it tips from two wheels to three and then to four.
The valley narrows, and we begin to climb steeply into the upper Ghez valley. Water is grey and frothing.
Easing our mind are waves of logic borne from the observation that the probability that communication exists from the hotel, to the central police station, to the outlying police stations, to the individual police, is miniscule. Still, as we approach the Ghez checkpoint our casual conversation ceases, smothered by nerves. An officer emerges from the hut looking confused. He shouts to another, looks back to us and begins to laugh. He is delighted when I present him with a lapel pin from Air Canada, but his superior is jealous, so I dig out another for him. The superior frowns, pockets the pin, and asks if I have "coins".
Up the Ghez valley we continue, with few places to pull over to camp. So narrow is the valley that is places the blasting has formed a half tunnel for the road to sneak above the river. Later we are lucky to find a clean tributary to draw water with a flat platform large enough to make camp.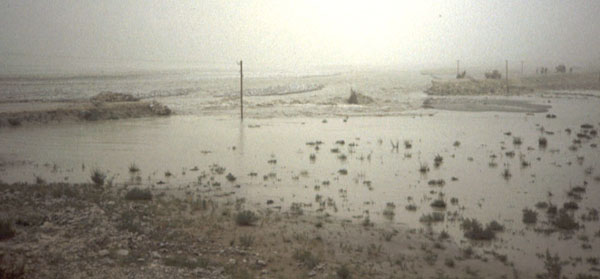 July 22
30km before Taxkurgan, China
128 km
6128 km total
Pass Kongur and Mutztagh Ata but dust storm obstructs view. Chinese student wants to speak to us but doesn't say a word. Camp in shell of a house, very windy
Early start today to get to Karakul for lunch. We leave the narrow, steep river gorge and the gray water behind. Scenery opens up to a very wide grassy plain with steep, rocky mountains opposite us. Two men on horseback ride through the plain in the distance. They look timeless. This area has been called the Marco Polo flatlands. The road snakes around the plain and spills us at the foot of the steep mountains I saw an hour before.
We reach Karakul sooner than we thought. Mutztah-Ata points skyward before us in a rare clearing of the ongoing dusty vista. It looks smaller than the 7500m it reaches but our base elevation of nearly 4000m accounts for this relatively small change. With a gentle grade on the north face it is one that many have climbed. Before this road went in, it used to be the biggest challenge just to access the base. Now the KKH passes right along the flat plateau from which the mountain emerges. A group of French climbers are stationed at the base making preparations to ski up the mountain unassisted by oxygen.
The French are put up in the plastic replica "yurts" erected by the Chinese in the park near the base. John in Kashgar had warned us about these scenes. "The Chinese have a different concept of how to preserve a natural site. You'll see." Before us, on the shore of the small lake Karakul, a Donald Duck paddle boat is moored. At the centre of the park is a building with a restaurant. Inside, it seems a woman, the hostess, is in a mortal argument with a man who seems to be the cook. They are both Chinese, and seem to me to be going a bit stir crazy, stationed so remotely. She hisses how I have inconvenienced her when I ask if we can order food. A karaoke machine is unplugged.
The cook comes outside soon after with two bowls of vegetable stir fry we convinced him to make for us and a couple of Jianlibao. It is expensive but tastes great after the rice of the past few days.
A young man, a student, from Urumqi sits next to us and attempts English. He is very interested in Canada and tells me he has many questions for me. I say I would be happy to answer his questions. He sits silently, smiling, asking no questions. "You are very crazy people. Very crazy."
We have a big climb out of Karakul. Steep switchbacks to a pass of 4100m. Right at the top of the pass I feel the bowels bulge and engage in the highest crap I have ever taken to date. Higher ones to follow, no doubt. From the top we can't see very far ahead as the fog envelopes the land below. Grassy hills decline ahead into a brown haze that covers the Subash plateau. Big, huge descent from 4100m pass. A winner for us, as the descent is much more gradual than the ascent following Lake Karakul. One of the few times of the trip I take advantage of my far too large 50 tooth chain ring. Man, that one was a bad idea.
Over the top though and our cruising descent is stalled by howling winds coming from the south. The fog or dust or whatever it is has come back again to obstruct any views. We approach a small garrison village that will be our last before the Keylar checkpoint. Brown mud huts dot the landscape. Similar brown walls encircle more clusters of brown houses forming an enclosed courtyard neighbourhoods.
The wind is howling so strongly we look for a sheltered place to set up camp. Seeing no one around, we clamber towards a seemingly abandoned mud building. There is no door, the windows are simply holes in the walls, and the roof has long since been blown off. Entering, rooms break off to the left and right of the corridor we stand in. We choose the right as our campsite. With no roof, we choose to set up the tent right there in the living room. The walls are a good shelter to the blowing outside.
Culinary hell has resumed. For the fifth meal in a row we cook rice for dinner. The saving grace is my addition of a curry like spice I found in a market in Kashgar. With the cilantro and raisins, it is almost an acceptable meal. Also developed in that nondescript little mud hut was the future staple of the trip, rice pudding. Made right after evening dinner, more rice is cooked. Lots of it, right to the brim of the pot. Once a boil develops, Alex adds generous portions of sugar, cinnamon (also found in Kashgar) and raisins. Boiling continues until all water has been absorbed and the rice is well cooked, almost a rice mush. Left overnight, it is a high energy, fast, filling breakfast that gets us off the mark. MMMmmm.
About the time we begin cooking our breakfast for tomorrow, three Takjik men enter the house cautiously, almost as guests, to watch us set up camp, cook, and just lie there. The usual conversations ensue, the men staring and smiling when we speak. They talk amongst themselves, "Man, check out the curly hair on that guy." "I'll bet he's a terrible horseback rider." Our patience with our observers wears thin shortly after they arrive, and I suppose they got the feeling, as they left soon after, returning a few hours later with new faces, and to take our peaches.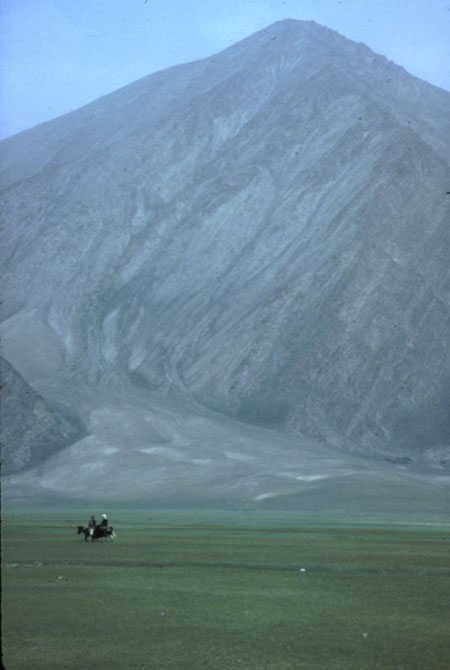 July 23
Khunjerab Pass, China
140 km
6268 km total
Lunch in Taxkurgan. Charged extra after having eaten. People loner. Gas attack before dinner. Al hears "Free Willy 2" preview on radio
We immediately lose big from our climbing yesterday. Easy morning descents are cold, and we glide and pedal easy for two hours. The village of Taxkurgan is our lunch stop. We have lost 1600m in elevation, and will cross Khunjerab tomorrow at 4700m. Lots of lost climbing effort.
The town exits to the left. In cruising mode, we glide to the centre of town, buy a melon and cut it up and eat it while leaning on our bikes. Children stare curiously. The people are not Chinese. This is a Tajik town, I read somewhere. Nomads cross the mountains to the west all the time, from country to country, on ancient trails and mountain passes. Now they all seem to be here, no one is in a hurry or has to be anywhere quickly. A loiterers paradise
The feeling here is of a bus station outpost. Buses belch through the streets, filled with Pakistanis en route or returning from Kashgar. Storefronts are small shops, mostly "variety" stores, selling inedible chocolate, incense, beads and other useless trinkets. Lunch at a noodle stop leads to confrontation with the Tajik owner when he tries to charge us twice for our food. The noodles were delicious, along with a couple of Jianlibaos each. Spicy vegetable broth with stretched noodles. We leave angry. Our first impressions of China have been scarred with scam artists and hostility. We are excited for Pakistan.
The road remains flat out of Taxkurgan, delaying our climb until tomorrow. The dust cloud has lifted in the afternoon, and we can see rolling, rocky desert mountains ahead. The road beyond town is deserted. The checkpoint at Keylar sees a young Chinese soldier cheering us on as we glide through. In appreciation of our hosts thus far, Alex leaves a huge shit in the middle of the highway. We haven't seen a truck in either direction in half a day.
We camp at 3900 m, well short of the 4700 we will cross tomorrow morning. Searching for campsites becomes a game of spot the clean tributary before it joins the silty gray river below. We find such a river, icy cold, beside the highway, surrounded by grassy plain, invisible from the road.
As we're cooking noodles and onions for dinner a gas attack hits me that lingers for hours and leaves me doubled over in cramps. Alex can only watch as I writhe. He's concerned, no doubt thinking about the fate of the trip if this is to be my exit. After hours of long farts, the pain passes and I can eat again. What a scare.
We sit with the radio on, listening to American short-wave. I'm in the usual squat-seated position, squashing my sleeping bag while it is still stuffed. I stir noodles while Alex makes camp. Listening to the radio in places like this amplifies the remoteness of our present. I feel a long way from home. It's a feeling quickly dismissed with the reality of 6500km still to conquer.