July 24
Passu, Pakistan
158 km
6426 km total
Morning crossing we awaken Chinese border guards from trailer. Helicopter circles and lands on Pakistan side. Temperature plummet and rain pours. Cold descent.
A cold wake up. We're up high and can feel it. We lie in our sleeping bags, spooning back our creation "rice pudding" which will become a staple later in the trip. The radio is on, on Voice of America, telling us about the OJ trial and a review of the new Free Willy movie, the one Alex poured his heart into.
Our biking begins with a slow climb, recovering the lost elevation from Karakul at 4100m to Tashkurgan, at 2500m. We have to cross Khunjerab at 4700m today, so there's work to do. The bikes feel heavy and I'm sore, aching and out of breath. Need to stop and rest much, but there is more climbing ahead. Alex pushes by me as I stop on a steep switchback and try to gather some energy. It's not there for me today. Eventually the steep climbing graduates to a gentle slope, grassy valley with snow-dusted peaks around us.
With the border post in sight, the thundering sound of a helicopter rises. From Pakistan it comes, circling behind us and descending to buzz the road. The pilot waves. He is a white guy. "Hey Doug! It's CNN!"
The border guards have been awoken by our arrival. Looking at our watches, it is noon Beijing time, which means it is about 8 am here. I never quite grasped the Beijing time concept. The guards are groggy and bothered by our arrival. The usual confusion ensues. The guards don't know how to deal with guys on bikes. There is no formal rule on this, so they let us proceed.
Atop Khunjerab Pass, the highest international border crossing in the world, we pose in front of the boundary line and take photos. The helicopter lands. The pilot is Canadian and is selling the machine to the Pakistani army. It is a new, high altitude helicopter useful for those Kashmiri border wars.
The temperature drops like a rock. Clouds roll in as a frigid wind begins to howl. Ice pellets blast us and we are shivering. Quickly we don all of our cold weather clothing but too late to ward off the chill. My thermometer has dropped from 12 C to 4 C in under 20 minutes. Worst of all, is that we now have to descend. A wasted descent: steep, freezing cold and wet. Our brake pads grind against the rims as the silt mixes with water. Hands are cramped and numb from the constant braking and cold. As we pass a group of Swiss cyclists ascending the climb, we barely manage "hello", but both notice that they were wearing open toe sandals on their feet and short pants.
Shivering, we hardly notice the abrupt change in scenery. The rolling, grassy hills of China have been replaced immediately by the "karakoram" or crumbling black rock. Steep, rocky spires reach up as we weave our way down. We are following the raging Indus river from its headwaters. Cold, fast, and milky white, it dissolves river bank at every bend. Parts of our highway have long since tumble into the froth, forcing the workers to chip further into the rock. We laugh at the remains of a feeble power line. The aluminum towers are half standing, some cable is visible, reaching from tower to tower, bending to the ground, buried with rock. The rest of the towers have long since fallen, some of them pathetically bent in half.
Thankfully, there is little traffic. We are too cold to yield or have our wits about us. We did remember to change lanes at the Chinese border, driving now on the left side, which leaves us on the edge of the cliff. We get our first look at Pakistani lorries, dressed up elaborately in gold tassels, murals, chains and bells. We will see many more of these up close on this highway.
With the change in geographic scenery comes an abrupt change in the appearance of the people. This is obvious, as the Pakistani people have quite different features from the Uygers and the Han. More remarkable is the hospitality which is extended to us on our arrival. Each Pakistani we encounter is excited to see us, to meet us and know about our journey. The Chinese greeted us with suspicion and contempt. We pass villages and children wave and chase us. We are happy to welcomed.
The rain quickly stops and the sun dries us out. The spectacular Karakoram peaks are revealed to us as we continue a more gradual descent. Steep cliffs descend from the peaks nearly vertically right to the river. Somehow the highway is carved into the walls of the cliffs. We can imagine the maintenance time demanded by this road.
We arrive in Sust, which appears to have a relatively high tourist presence compared to most of the towns thus encountered on the trip. More Pakistani lorries are brightly decorated and washed for tourist photographs. Stopping for a hot meal, we conclude after a tasty curried rice that we have exited culinary hell. This is a fattening up country, should we stay healthy.
Well I'm tired now, and ready to call it a day. This is one of those situations where Alex is ready to keep going and I've had enough. My limit seems to come at the eight hour mark plus about one minute. You can almost set your watch to it. Today it has been about that time when Alex asks for more. Passu, the next town is another 14 km beyond Sust, the downhill has ceased, the sun is setting, and the headwinds are blowing. I'm through now, absorbing little of the stunning scenery we pass. Persuasiveness gets the better of me as I stumble, head down, the final dozen kilometers to a very small village of a few houses set at the base of the great Baltit glacier. Amazingly, the glacier seems to reach almost to the highway. How did they build this road?
I am thankful to reach the Passu Inn, the only accommodation in the village. With such a small area of flatness, camping is out of the question. Besides, it is merely four dollars for the night. The place is deserted save a Finnish man who quietly answers Alex's questions about post war Finnish/Russian relations. Soon I am asleep in our dormitory room, the last to bed as usual, and the one responsible for the extinguishing the lantern that has kept me awake far too long.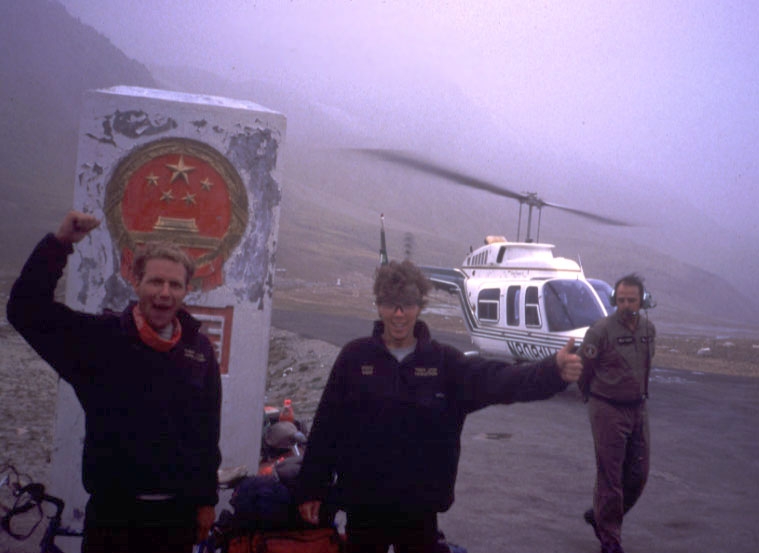 July 25
Hunza, Pakistan
58 km
6484 km total
Monsoon destroys road. Portage bikes and call it an early day. Haider Beg and the Swiss Bible thumper family.
I awake today, as I often do along the way, with a panicked feeling of not knowing my whereabouts. A look around the room and my thoughts collect. Rain beats on the roof. Outside is a different world than the sunny afternoon we left in Sust. Clouds hang low this morning. It looks like an all day rain. Our friendly innkeeper prepares porridge for us. This is luxury through our eyes, and somehow the familiarity of porridge for breakfast elevates our enthusiasm for the country as a whole.
The rain is cold and misty as we first roll from the Passu, but we are prepared today, we think, dressed for any weather that can be thrown at us. How wrong we can be.
Drizzle escalates into steady rain, which worsens to driving rain. Rivers of gray silt wash from the steep cliff sides to the road, forming pools for us to plow through. Some drop deeply to submerge our panniers. In some pools the silt has been deposited and mixed with the water to such our tires and feet into a thick muck.
Erosion is so live that small boulders tumble from the mountain onto the road even as we ride. This should be alarming to us but the steady escalation of the weather has desensitized us to the absolute danger of our presence. "Alex, boulder ahead on the right." At some points the boulders are so large that they have been left in the middle of the road. Buses weave by where space permits. Other times passengers file out and lend a hand in pushing the rock to the edge of the road and into the river below.
Still we weave by, thanking our mode of transport for our versatility.
Progress halts at a long line of buses and trucks. Again, we snake past the lineup to the front to see whether our bikes can handle whatever obstacle has stopped the rest. 200m beyond the last bus another line of trucks and buses has formed, this line facing us. Between us is a waterfall cascading down onto what used to be the highway. Mud oozes around our tires as we sink to our axles on the edge of the hole. Mist from the waterfall soaks us.. There is no hope of crossing this gorge.
To the left, the waterfall collects into a raging torrent and spills quickly to the Indus. Occasionally a Pakistani man might approach the edge of the torrent, 20m wide at this point, and hop from boulder to boulder until reaching the opposite side. A crossing, we think, and set out to portage our bikes in the same way.
The only viable crossing is down the waterfall, some 100m to our left. The bikes are to be unloaded and portaged in stages across the torrent. Our first steps into the muddy froth indicate to us the force behind it. We lean against the current to retain our balance. Instantly our feet are numbed by the recently thawed water. Boulders bounce past our ankles with a low rumble. On the opposite side, after our first crossing, we wonder if four more will be possible. Just one has drained our strength and resolve, but now committed, we hop our way back to our belongings for another try. Three more follow and we sit, exhausted, on the south side now, wondering how much further we can drag ourselves today. It is only 10:30 in the morning, but we are both whipped.
In a shack not far from the bank, back on the road, a man burns tires and wood scraps for warmth. We join him to thaw our toes and scrape the sediment silt that has built up in shoes from the river crossing. Soon we are riding again, but we are physically drained, and agree to settle in a Hunza village after an hour of more boulder dodging and puddle jumping.
Climbing to the terraced village above the highway, I am marveling at the greenness of the valley around us when my tire blows out with a loud bang. A sidewall rupture, the first of the trip, but not the last, as we would see.
The Old Hunza Inn is our choice for the night. The owner, Mr. Haider Beg, makes it clear that, although there is another Inn in Hunza named "Hunza Inn", his is the oldest and the best. The owner of the competing establishment simply registered Mr. Beg's name before he had a chance to do so, and thus disqualified Mr. Beg from officially carrying the historical name of his Inn, which, for 20 years, had been The Hunza Inn.
Names aside, we stand on the patio overlooking the magnificent valley, hang clothes to dry and repair my flat tire. A Swiss family of four with two young children are the only other occupants. English speaking, they are Christian missionaries stationed in Rwalpindi, here on vacation. Great, bible thumpers, I think as they introduce themselves. I brace for a night of conversion conversation, and I am not disappointed. Mr Swiss dishes out more than a helping of Phil Graham speak over dinner. Haider quietly serves, and cleans while we politely nod and try to change the subject. Even his wife seems impatient with the rantings. Soon Alex leaves me to nod politely on my own with the missionary. It's a good time to fake nodding off to sleep.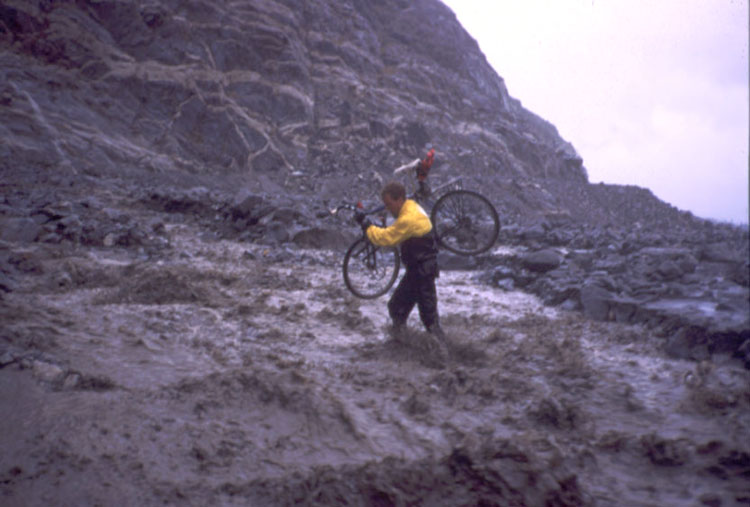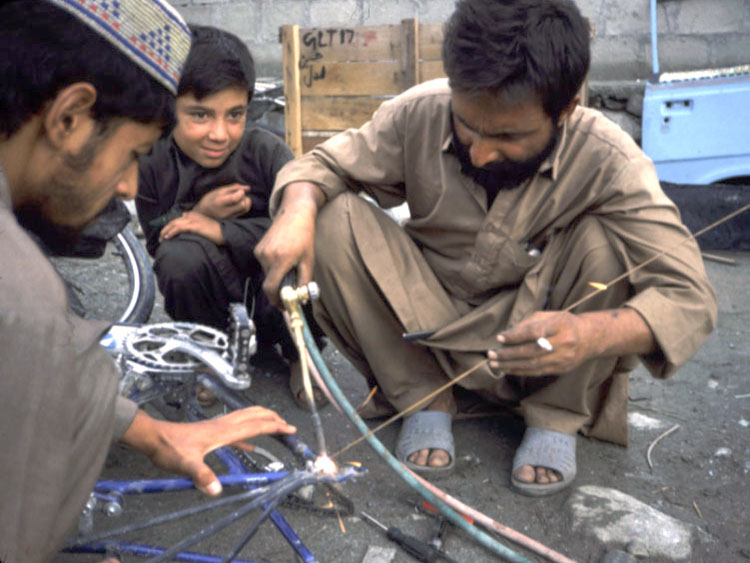 July 26
Hunza, Pakistan
107 km
Al breaks a chain. Tourist cottage and Ohio guy Doug tells great stories. Discover mango shakes in chaotic Gilgit.
We leave Haider Beg an the New Hunza Inn, fully understanding why this is now called the "New" Hunza Inn, since a competitor down the valley stole the name "Hunza Inn" before Haider could have it registered with the government. Even though he had the name for more than twenty years, it seems that town council would not give him a break. He's in marketing mode now, ensuring that we spread the word nodding with his hands pressed together under his chin as we depart. "salam alekum".
And speaking of spreading the Word, we're happy to see Swiss Family Ned Flanders off and his love of Phil Graham
Cloud still hangs low off the steep mountains, but it's drier now, and we make leisurely progress along the river. The Hunza terraces, lush and green on both sides of the river, rise like stairways high above us. Our road takes frustrating thousand foot rises and dips, hardly noticeable in a car, tough going on a bike.
One of the sights we're supposed to see is the Rakaposhi glacier. Once again, the low cloud takes away from our view, and we see only the lowest fingers of the glacier reaching down on the other side of the river. I guess monsoon season is close.
Gilgit is in sight, and we're on the suspension bridge on the final approach when Alex lets out his, "God damn!" Circling back, Alex has hic bike on the ground. "God damn it! I've broken my frame." This is bad news. Where the chain stay meets the seat stay, his frame is literally in two pieces, dangling freely under the weight of the panniers. Where the hell are we going to get this fixed? I used to mock Alex for packing a carbon fiber and resin repair kit. Looks like we may need them.
We agree to meet at a pre-arranged hostel in Gilgit. I ride into town while Alex hitches. Hours later, after checking in, hanging out with the some of the other backpackers, Alex shows up at the hostel. He's fixed his bike, hiring a welding guy and getting it done on the spot. He says he got some snapshots of his bike glowing orange. Hope they turn out.
He's not totally satisfied with the repair. In true engineer style, Alex spends the rest of the next day having a steel reinforcing bracket built that would sit inside the welding joint.
Al breaks a chain. Tourist cottage and Ohio guy Doug tells great stories. Discover mango shakes in chaotic Gilgit.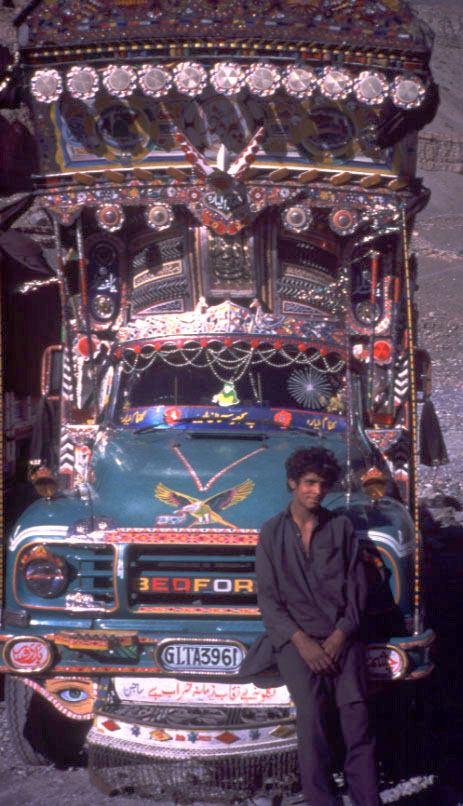 July 28
Chilas, Pakistan
138 km
6729 km total
Starting to wear out. Tires blow out at the sidewall. Long uphill climb to hotel on hillside. First day we start taking Malaria medication.
Big day. We can make miles in this country, but it's hard work. It never seems like we're really getting much in the way of down hills—we always have to brake hard to stay on the road, and the up hills just keep coming. Even our maps are misleading. The contours, showing thousand foot elevation changes, show us descending the Indus for the next four days. All down river, right? We must be climbing nine hundred foot hills or something.
We get a bit of rain today. The rain has become a bit of an afternoon fixture. It's nice to cool off a bit but the bad news is that the runoff—muddy, glacial, silty stuff—has been really hard on our bikes. I blew through a sidewall today, the rubber just kind of rotting off the rim. A look at my brake pads also revealed that we're eating through our pads fast. The grit in the silt is like sandpaper. Alex is concerned that our rims could be weakening. Not sure how we'd find good replacement rims in this country.
Tonight was our first hit of "Larium" malaria medication. We have to take it once week until we're into Tibet. Apparently this stuff can make you a bit psychotic, make you more aggressive, or give you bad dreams. Just what Pakistan needs!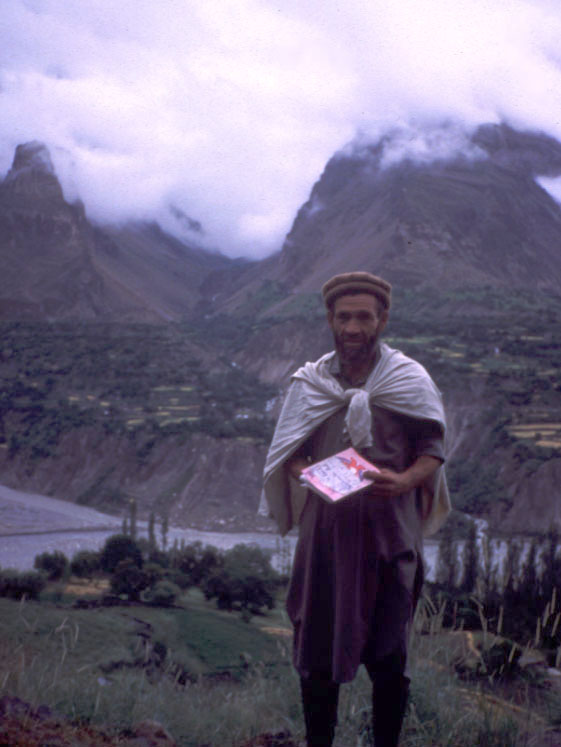 July 29
Dasu, Pakistan
131 km
6860 km total
Dehydration! No energy today. Weakening. Kids block road into down "one pen! One pen!" I blast through and level one child. Keep on riding, no looking back.
Couldn't seem to get enough water down today. It feels like the humidity just hangs in the air. Solid miles today, but at a price. I'm pretty worn out. Our big highlight today was reaching the halfway point of the KKH. A vertical pneumatic drill marks the spot on the side of the road.
In our destination town, a group of kids sees us coming, and as usual, blocks the road to try and solicit "one pen" from us. Rather than negotiate our passage through the gauntlet, Alex plows through, the children dodging out of the way. I decide to follow, but, as usual, the kids have closed the gap as they stare after Alex. It's too late. I can't stop. I thread the needle….almost…taking out one child with my front pannier. Pretty sure I just grazed him, I keep riding till we're out of sight. Damn. I really hope I didn't hurt that kid.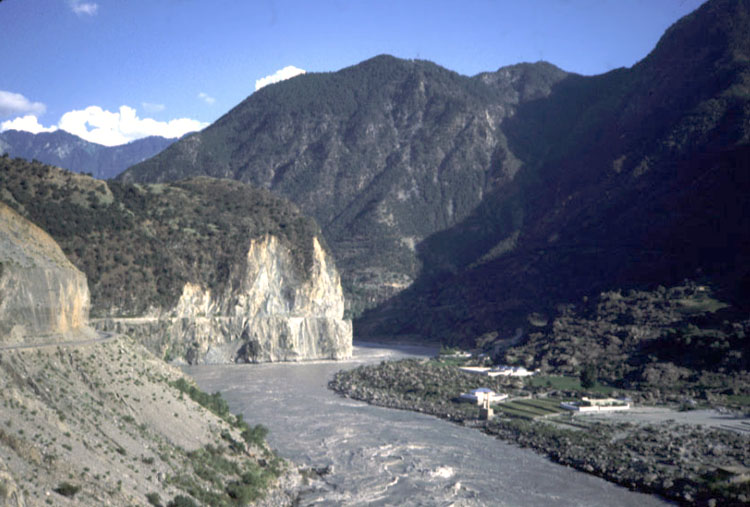 July 30
Takot, Pakistan
105 km
6965 km total
No sleep last night, vivid Larium dreams. Trucks with permanent horns. Yoda blocks the stairway to street. Extended lunch Iying drinking Coke on rope beds.
Last night's hotel is up there for one of the worst yet, but we're just happy to be able to get off the road and get some rest. Most of the patrons (they seem to be truck drivers), it seems, don't sleep in rooms, but prefer to sleep on the roof on rope beds. Our room is up a very narrow blue staircase—getting the bikes up there is a chore, especially with a beggar blocking the way refusing to get out of the way, and us refusing to pay him to do so. Two guys with bikes win. But maybe he gets revenge on us later by paying all the truck drivers to honk their horns outside our window all night. Rough night.
Listless in thick afternoon heat, we lie on rope beds beside a roadside food stop eating dahl and sipping three Coke's each. Enjoying the rest, and feeling kind of worn out after a poor night sleep, we're in no hurry to get back on the bikes.
Takot is little more than a couple of dozen buildings at an Indus river crossing. We find a naan bakery and enjoy some of the hot stuff right out of the oven. It's an impressive operation, with three men working the dough, rolling, and the oven, and a forth working the till. The guy sticking his head in the oven every fifteen seconds appears to have the toughest job of the four. I wonder how the till guy got off so easy.
Later, we find a shop—a normal, everyday storefront—selling semi-automatic weapons. The plucky manager happily shows off his wares, offering to us to try them out for size. Why does this not seem right?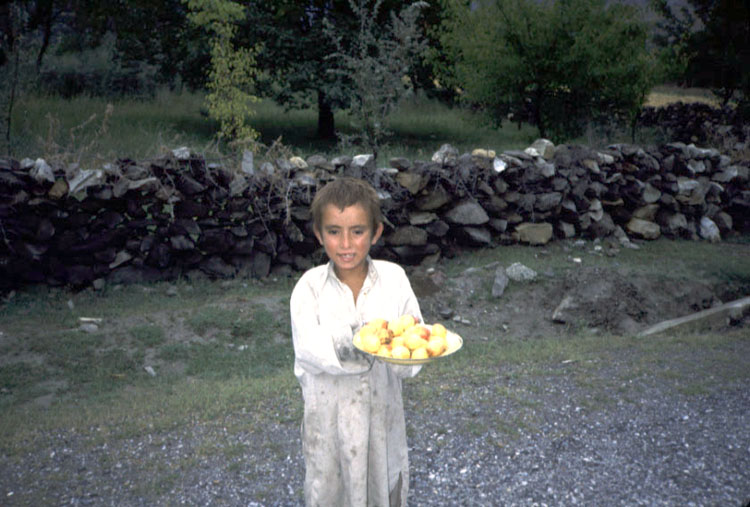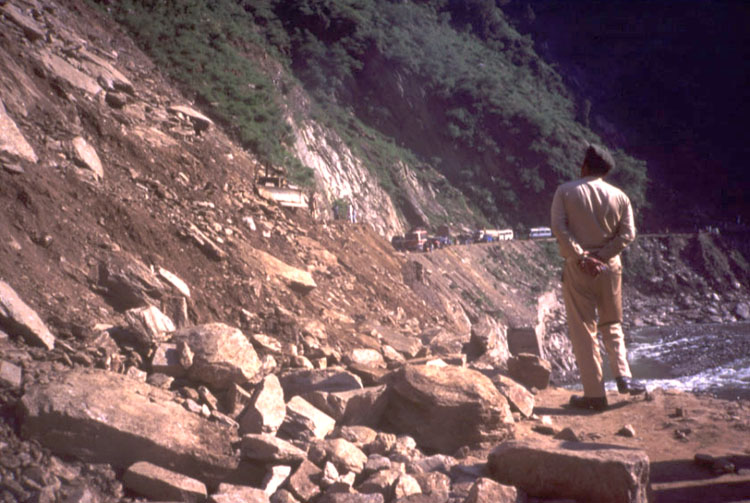 July 31
Abbotabad, Pakistan
50 km
7015 km total
5 Km out of Takot landslide blocks road. Pay kids 50 Rs. to carry luggage. I bonk. Alex rides ahead from Battagram while I hitch with Ahzar, the zealous Muslim.
We're not five kilometers out of Takot when we hit a landslide. Similar to the slides we've seen up river, there's a long line of trucks we have to weave through to get to the see a single, pathetic bulldozer trying vainly to clear hundreds of tons of rocks away from where the road used to be. It's not looking good. The "over" route is a steep hill up over the slide. The "under" route requires us to ford a swiftly flowing river, but seems easier. At least there are lots of boulders for us to wade between, but due to a curve in the river, will require two crossings. A cool bath would be nice in this stifling heat. We unpack the bikes and portage down the hill to the river's edge.
The "under" route is a failure. A steep section in the middle forces us to literally bob our way across one section and it's faster moving than we thought. Alex gets pulled under and we're humiliated by laughing Pakistanis, who seem to leap from boulder to boulder in their bare feet.
It would take us at least three crossings times two to get across. We're exhausted after just one, so we trundle back up the riverbank to the road to check out the "over" route.
Swallowing our pride, one of our better decisions we make is to pay a some of the kids to help carry our gear over the steep landslide. Watching them closely to ensure our stuff stays in sight, they blow us away with their strength. Wiry, sure-footed, and wearing only sandals, they leave us in our tracks as we clumsily balance our bikes up one side, across the slide, and back down. Fifty rupees well spent.
Soaked with sweat, probably as wet as if we had forded the river, I'm feeling just knackered when we reach the other side. There's a busload of whitey's stuck waiting for the bulldozer to clear the way. They snicker at our bedraggled appearance. Hey, at least we're not stuck here.
I hang from Alex's back wheel our of Takhot, but he goes it alone into Battagram. Knowing that we have a big climb up onto the Chatter plain, I realize I'm done for the day. For the first time in the trip, I realize I'm going to have to hitch a ride to keep up. I've been going downhill since Gilgit. As Alex has energy and rides on, agreeing to meet in Abbotabad tonight.
For the past few days we've been carrying, and refusing to throw away, the most disgusting cookies (or are they crackers?) of the whole trip. Indigestible, they simply reduce to dust in your mouth, making swallowing, even if you wanted to, impossible. Apparently Alex was successful in pawning them off on a group of the roadside children who normally call out for "one pen, one pen!", as we ride by. This time, as I pass them perhaps a half hour after Alex has cycled through, certainly long enough for them to sample the dust, they throw the cookies back at me in disgust. Nice one, Alex.
In Battagram I'm in no hurry to move on. I sip tea in a dark restaurant and try to get some energy back to make a plan to find a ride. Sharing my tea with an English speaking banker, I ask him where all the women are in Pakistan. To this point I have no recollection of actually seeing a woman in a public place. He assures me that as we move south, things will get more progressive. Just then a family, including a wife, enter the restaurant and are escorted behind a curtain. Private seating I suppose.
I pick away at my rice dish, trying to get some hooter back in the legs, thinking about how to get to Abbotabad. No sooner has this thought settled in when a young pharmacy truck driver, Azhar, approaches me, and speaking perfect English, strikes up a conversation. It turns out he's heading to Rawalpindi with his assistant, Nazeem, and he's got space for me in his minivan if I don't mind a few stops along the way.
As we bounce down the road in his Suzuki, he peppers me with questions about our trip. His curiosity and command of the language are refreshing, but soon he has steered the conversation to religion, and it's clear he has an agenda. For a man who says, "I am not a religious man Douglas", his zeal sure says otherwise. "Islam is the perfect, perfect, perfect religious. How can a Hindu consider a statue to be the creator of life? It is impossible! And please, Douglas, I simply cannot accept the immaculate conception story of Mary. A man cannot be the son of God! No!" I am hoping that my silence sends a message.
My condition worsens, and over next several hours I phase in and out of a feverish daze, listening to Azhar marvel at the wonders of Islam, wondering if I'll make it to see Alex alive in spite of Azhar's maniac driving. We run out of gas, and while I wait for Azhar to fetch a jerry can I'm quivering in a cold sweat under the van, feeling a step from a coma. He stops on the Chatter Plain for prayer. I shiver in the passenger seat, watching the faithful wash up before entering the mosque. I consider joining them at the fountain to splash a little water on my face. Is that blasphemy?
And we do see Alex at one point, just as Azhar is lecturing me on the importance of having clean hands before eating and how eating with your hands is better than with utensils because of the secretions from your fingernails. Alex looks like shit. Before I can say, "Alex, don't swear, this guy doesn't like foul language", Alex lights up.
"Holy fuckin shit, Doug. This little fuckin bastard just fuckin threw a rock at me and just missed! Look at the fuckin dent in my top tube!" Indeed, he's got a peach pit sized dent in his bike about four inches from his groin. Ouch. Azhar and I drive along in relative silence. I'm guessing he's never heard anyone speak like that.
"Douglas, I do not like this word, 'fuck'. But tell me, do Christians engage in sexual relations before getting married." Sure, I say, of course. He is silent, then blushes. "Douglas, this minivan has just become very uncomfortable for me." I enjoy his silence for the next five minutes, wondering how he's imagining us non-believers can ever get to paradise. Then he lights up again and adds the topper, explaining why women should keep themselves covered, because, "the female body is a disgusting, dirty place. It must stay out of sight all of the time."
Incredibly, we arrive in Abbotabad alive. Nazeer, his co-pilot, goes nuts at the sight of women, though they are covered in the burqa from head to foot. Can the sight of an ankle do that? As they drop me off at the Bolon Hotel, Azhar is nearly in tears. "Douglas, I will not forget this day. You are the third friend I have ever had. I will write to you on October 1. That way the letter will reach you in Canada when you arrive home from your incredible journey. He hugs me tightly, as if we are lifelong friends parting for good.
I promise him many letters and am left alone waiting for Alex, watching TV in the hotel lobby. At 150 rupees, this is our most expensive hotel of the country.
Alex arrives. He's beat, looking like I felt earlier today. Saying little, he collapses in bed.