June 24
Buchara, Uzbekistan
148 km
3714 km total
Leaving town, crossing the Amu Darya river Brandt slips twice. Line up for border crossing, truckers having passed us days before applaud our precession. Visa problems ignite Al and Brandt. Al gets flat at lunch. Shit hole hotel makes us leave by 8 am. Raisa Gareeva rescues us and puts us up in her a/c apartment.
I'm excited. Alex is energized. Brandt and Nathan are different though. Nathan rides with his head down, less engaged, less energetic. He sleeps through lunch.. Brandt is still angry and silent after the border incident. At a lunch stop I eat non-stop, my appetite voracious. This is a good sign as I know I'll need it. It's hot here too; humid and suffocating.
The first thing I've noticed about Uzbekistan is the hats. Uzbek men wear these kind of black and white beanie caps. They look cool and more stylish than the woolly lids the Turkomen wore. The other thing I've noticed is that the Uzbeks are way more boisterous. Unlike the shy Turkomen, or the surly Ukrainians, the Uzbeks shout from every corner in a long, drawn out vowel sound. "ouuuuuuuuuuu". Bolder, louder, more fun, but we're on our guard too. Since coming into the country we've been shortchanged twice; once for changing money and then at lunch—charged double for "salat". Have we got "sucker" painted on our bikes?
We reach Buchara late, but find the Intourist hotel before dusk. Once again, we go through the ritual of trying to convince the manager to allow us the privilege of staying there. What is with these guys? They just don't get the concept of making money. Oddly, he speaks French, and I carry out the negotiation. At one point Brandt looks at me in wonder in mid-conversation, asking, "When did your Russian get so good?"
Dinner is cabbage rolls at a crappy restaurant near by. As bad as they look, I eat 5, while the others only get one each back. Our perception of Uzbeks is solidified as we get ripped off again on the dinner and later Alex gets short changed on morozhnoe.
We've come to be very comfortable in our Soviet hotels. We play a game: by what factor do light sockets outnumber operating light bulbs? 10 to 1? 15 to 1? How long will the water actually stay on for? We quickly fill up our water bottles when the tap trickles on. Shit, splattering the walls of the bathroom, doesn't make us gag anymore. It's just part of the décor. I lie in bed and help along the peeling wallpaper. By the time we turn out the light, I've pulled almost another metre off the wall. Crumbling plaster bits stick in my hair.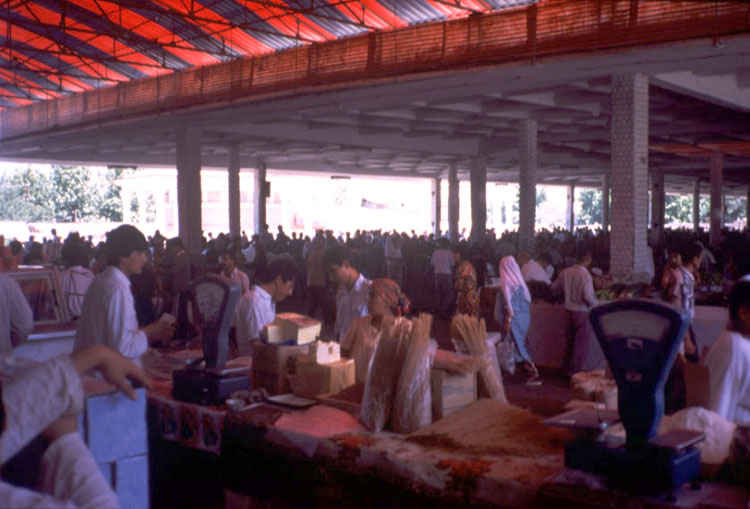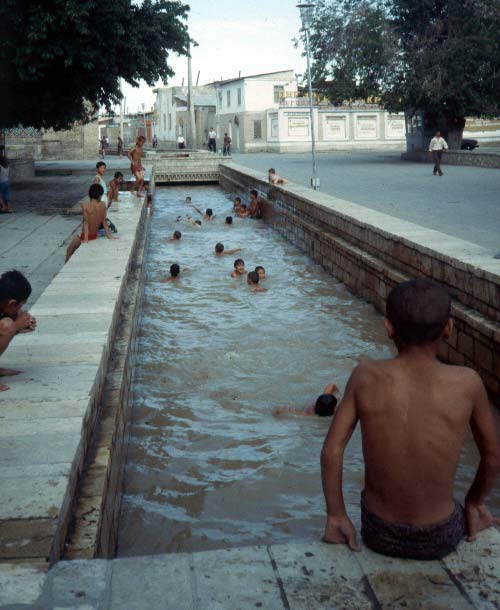 June 27
1 day west of Samarkand, Uzbekistan
158 km
3872 km total
Crank problems leaving town. I break the 32 mm wrench removing BB. Uzbeks shout annoyingly from storefronts. Lunch in empty mud team. Rain pours, we sleep. No Brandt or Nathan, they bus it.
I awake in a start during the night from a nightmare. I'm playing pro hockey with the Rolling Stones and Mick has stolen my skates. We drop the gloves. It's a chilling start to a tough day for me. My guts groan from something I ate. Foul, loud intestines.
Both Brandt and Nathan have decided to bus it to Samarkand. Together, Alex and I will power like we did back on the day into Sinop. But a creaking crank just outside town forces us to stop for a repair. I break our 32mm wrench trying to remove my bottom bracket. Oh shit. At least we found that big old Soviet wrench in Ashgabat. Mysteriously, the creaking disappears after cleaning the spindles. Still, I'm all foul and cranky and getting annoyed by the constant, "ouuuuuuuuuu" from the roadside Uzbeks. There's a new whistle they do now too, kind of a kissing sound that makes my head snap each time I hear it. I'm suspicious of the Uzbeks. Our rip-offs to date in Uzbekistan haven't helped this perception thus far.
We get a change of scenery today, our first since before Ashgabat. The sight of mountains is a welcome change from the unending cotton fields. My mood lifts. Just as we're making some miles dark clouds roll in and rain begins to fall very hard. We find shelter and respite from the curious locals in an abandoned barn. After munching on melon and bread I quickly drift off into a deep sleep, dreaming of home. I awake refreshed, in a much better headspace.
Our afternoon ride is difficult, through rough roads and construction. It's hot and humid, and we seem to be starting a steady climb. The real mountains can't be too far off now.
June 28
Samarkand, Uzbekistan
122 km
3994 km total
Riding quickly, no lagging riders. Farmers pass as we eat breakfast in a grassy pasture. First mountain views since Ascabat. Scenery changes to brown, grassy hills. Pull into empty bazaar for afternoon nap. Into town having ice cream a man recognizes us as friends of B & N and escorts us to house of Yuri Fyodorov
Our tent is soaked in dew. It has been a long time since we have seen dew. Last night was cool and I slept well. Camp is a grassy pasture at the foot of the first mountains we have seen in weeks. Sheep herders curiously circle our tent but keep their distance. These shy herders are in contrast to our early impression of Uzbeks. The more calling, shouting and whistling we've run into the less inclined we've become to engage with them.
Our scenery has changed indeed. Flat pastures have given way to rolling, brown, grassy hills. The 1000 meter peaks south of Samarkand grow higher as we approach.
We ride quickly, without worrying about lagging riders or ambiguous turnoffs. It is just Alex and me, and we're in a serious cruise mode. Our lunch stop today at noon is efficient and restful. Midday temperature reaches 34C. At least it's cooler than Turkmenistan. A roadside bazaar is our shelter. We stretch out on the benches, out of site from the highway, sipping the unpalatable pineapple flavoured Serino and snoozing.
We have the address of Yuri Fyodorov, another connection in the Peace Corps network. We were told he'd have a place for us to stay. Where that is is a mystery to us at this point. Big towns are never easy for us. As we roll into Samarkand this is no different. Traffic gets busier, we don't have any idea of where we're going except shouting and pointing, "Where is the city center?" in bad Russian. Somehow, we always make it there, and somehow, good things fall together.
At an outdoor restaurant near the center, a Russian soldier calls us over. He had run in to Brandt and Nathan the day before, and knows where they are staying. He directs us right to the front door of Yuri's apartment—one of the many seven story, cookie cutter apartment blocks we see everywhere. Brandt and Nathan are already there. It feels weird to see them. They've been a part of the team up till now yet somehow it feels strained. Once again, they tell us that they will bus onward to Tashkent. I have mixed feelings—happy knowing how kick ass Alex and I are riding together; and disappointed that our team is crumbling.
Yuri Fyodorov is a nervous, eager to please man in his late thirties. He is very concerned what we think of his home. He has moved his wife and twins into one room in order to accommodate our stay. Pouring us cup after cup of çay, he rubs his own belly, saying it well help soothe the stomach aches one gets in this part of the world. Indeed, our stay here, at $10 each/ night, will more than double his monthly income he says. Yuri dreams of making enough money to move his family back to Ukraine or Russia. I wonder how he got here in the first place. He asks that we please make recommendations to any traveler wishing accommodation in Samarkand. Done. Go Yuri, good luck to you. I don't have the heart to tell him how much Ukraine disappointed us.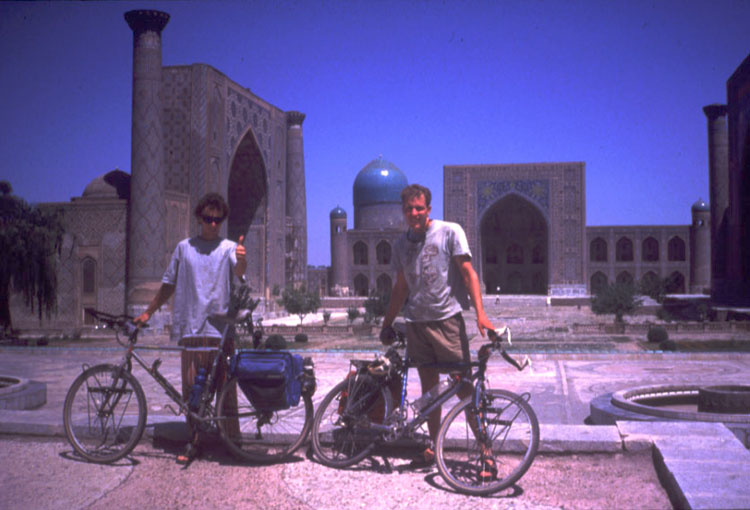 June 29
Samarkand, Uzbekistan
4160 km total
Lunch with the restoration construction workers at Bibi Khaum. Pork kebabs with soldiers at streetside khana.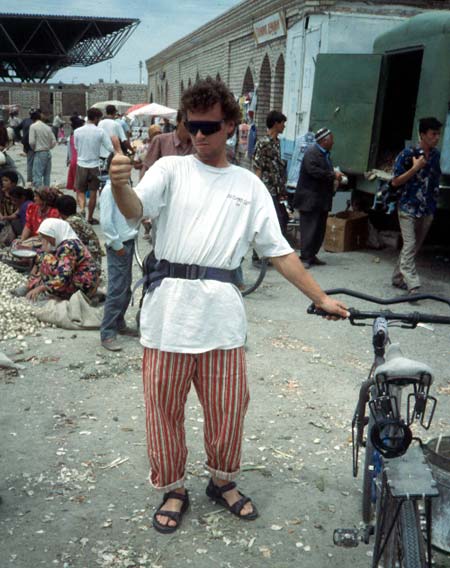 Our stay in Samarkand takes us to the amazing sights. We pose in front of the Registan and the Bibi Khanum, thumbs raised in victory. Sadly, these incredible showpieces are in such a state of disrepair that the blue tiles literally fall from the walls and pile on the ground below. I don't see the harm in taking a few of these broken discards as souvenirs. The restoration workers call Alex & me over and offer us plov—they scoop us out big spoonfuls from a huge pot. Çay is served. We spend the rest of the day fattening up and stocking up at the bustling market. We have dinner with the same Russian soldier from the night before, trading stories of life in America and Canada. The concept of 31 flavours of ice cream is completely foreign to him. He argues, how can there possibly be 31 flavours? There simply aren't that many flavours in existence. Ice cream: strawberry, vanilla, and chocolate.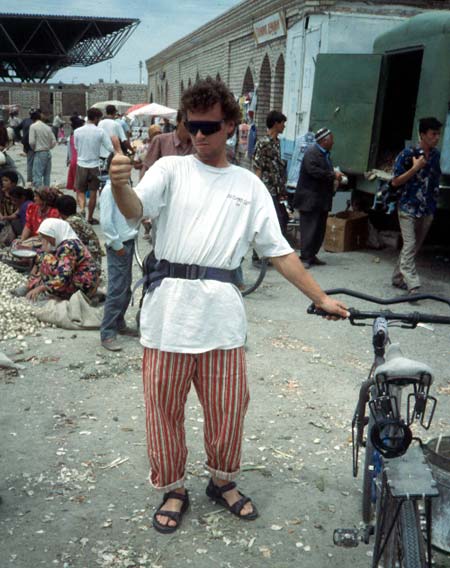 June 30
167 km
Dry, hot mountains through a river valley. Lunch at roadside khana where we abuse female service staff. Camp in field next to dry irrigation flume
Our exit from Samarkand is slow—me forgetting my helmet 3km into the ride and forcing us to backtrack to Yuri's. Damn. I feel like the dumb rookie treeplanter forgetting my lunch back at camp. Our pace is easy but constant, and we crank out serious mileage knowing we don't have to wait for others. Alex says he is feeling strong, fully energized. I'm still feeling low in energy. I'm probably not drinking enough water. It's hard to do when you see it pouring out your arms the instant you swallow. We've started augmenting our water with a Kool-aid like product called "Youppi". It's cheap, easy to find, and comes in at least three great flavours. It also beats Serino. Nonetheless, we stop frequently for sodas, often drinking three back to back to back. It may not be cold, but the kiosk vendors take great pride in serving up "wet" cans of soda, as if wet is some close substitute for cold.
Daytime temperatures reach the high 30s as we weave through dry, hot mountains and a dry river valley. It reminds us both of the Northern California Pacific coast ride, about 10 miles inland. Sweat dries instantly against a toughening headwind when we stop for lunch at a roadside khana. To amuse ourselves, we pretend to lay down the sleaziest pickup lines on the female service staff, hoping that their English skills would be poor. "Baby, you've got the best tits in Asia. Why hide them under all them clothes?" We get a good laugh out of our boorish behaviour and amazingly, we don't pick up.
Thumpthump, thumpthump, thumpthump, thumpthump. The highway has two inch gaps in the surface every 10 metres. It's hard on the groin. In the last hour of the day I bonk pretty hard. Uzbek drivers see it—stopping and laughing at my listlessness. Alex sees it too, and stops at a roadside vendor and buys us four Snickers bars and two King Colas. "It's bonk insurance Doug. Only a bit to go tonight. This keeps me going to our roadside campsite.
After dinner of pasta and Ethan's imported sauces from Ashgabat I'm bothered by the stale humidity in our tent. I exit into the buggy night and walk naked towards the highway, 300 metres away. I remembered seeing a broken irrigation flume gushing water into a pool like a waterslide. Lying down, water rushes over my body and cools me down. At this point I figure the harm of any pesticides or animal feces I'm exposing myself to is outweighed by the pleasure I'm feeling in cooling off. I lay in the dark flume, alone and quiet, though cars chug past me only twenty meters away. Ahhhhh.
July 1
Tashkent, Uzbekistan
139 km
4300 km total
Night in the bank manager's office hosted be Alexi, Boris, and the good looking silent guy smoking 3 sum "Astra" cigarettes. Check in to Turon hotel recommended by German backpackers July 2-4 Nathan blows out.
(Nathan's note: Tashkent was one of my fonder memories of the trip, thanks mainly to the hospitality of the Peace Corps people there. Say hi to Norma for me if you go.)
Tashkent-
The road signs tell us that we have arrived in the largest city in central Asia, but it's clear that we're not there yet. Mileage markers have long since expired, passing km "0". We know by now that mileage to a city only takes you to the city limits. There is still some riding to do. Even so, we're overjoyed. Passing the mammoth monuments that proclaim "Tashkent" in Cyrillic, we're pumping fists in the air. Four months earlier we had ball parked an itinerary guessing our arrival in Tashkent on or around July 1. Today is July 1. It's Canada Day in Uzbekistan.
We weave through the city, outskirts to city center, without map. "Where is the centre of town?" Pointing, waving, and riding hard. It's late afternoon, nearing dusk. No fear of another night time city arrival, as in Astrakhan and Buchara. We're in city cruising mode, stopping for a Mars bar, an ice cream, a coke, or trying the half as expensive, "King" cola. Half the price, but not worth it.
Our directions lead us to our proposed accommodation rendezvous with Brandt and Nathan. Yuri had set us up with a hostel for teens in the centre of the city. As we reach the destination, however, we find no such hostel. At the address he gave sits a bank, now closed for the night but with the door open, of course. Inside, Alexsi, a helpful security guard, tries to direct us. We semi-communicate in broken Russian and hand gestures. He waves us around back with his cigarette, down an alley and around back. Behind the bank he shows us the hostel. Just in time too. Dark has fallen and I can't wait to get cleaned up and crash.
Alexsi takes control, disappearing into the building, showing us in, lifting our bikes to the third floor. As Yuri told us, this seems to be some kind of youth hostel. Perfect for our needs. Much cleaner than the Soviet hotels we've grown used to. All the while we are looking around corners, asking at the front desk. "Where are Brandt and Nathan?" The surly front desk lady finally relents. "Yes. They were here yesterday. They had to leave." We're left scratching our heads. Where did they go? No note. Not a word.
For now, though, a hot shower feels great. Alexsi and his buddy wait in our room lounged on the bed—they say they want to eat dinner with us. But just as we're finishing up—clean, comfortable, settling in, the babushka returns. We can't stay here, she decrees with rude gestures and loud voices. The owner, it seems, doesn't want foreigners staying here. Brandt and Nathan, it seems, went through the same registration ritual. Sure, you can stay here, get comfortable, here's your room. Now get out, now. Alexsi pleads for us, but in vain. We're allowed to finish washing up, but then we must leave. Where will we stay now?
It's too dark now to find another hotel. Alexsi leads us to the bank and inside. We're taken down a very bank-ish looking corridor and into a room that seems to be the security guard quarters. Two others are here, including Boris, the fella who helped us up the stairs in the pseudo hostel, and a third man. He's a silent one, dark skinned model looks, barely nodding upon our entry. "Ya, we see American cyclists coming into our bank after hours all the time." He puffs on an Astra (the 3 sum cigarettes), like a Marlboro man. He's an Astra man.
The walls of their security office are decorated with posters of women in bathing suits. Russian rock music is playing from a small ghetto blaster. Alexsi asks all the questions. Married? Where did we start from? Where to? Why not married? How many do you ride in one day? Where do we live? Have girlfriend, then, if not married? Boris looks on, asking questions to Alexsi for him to ask us, as if his Russian is less foreign to us. We're too hungry, too tired and numb to play now. Dazed and hot and really wanting a bed or food. Alexsi brings a pot of gruel with some kind of vegetable. I'm hungry, but not hungry for his gruel stuff.
Alex flips through the small dictionary looking up our key words: Beds? Sleep? Alexsi nods, but insists we leave the bikes in the guard room. This always makes us nervous, but we've grown to trust Alexsi. Leading us further down the corridor, he looks a bit uneasy after arguing with Boris, presumably about where to house us. He stops us at the last door on the right, sealed shut with a wax impression, as all the other doors seem to be. He breaks the seal, and from his enormous key ring selects a key and opens the door.
It's an office, a banker office: desk, files, cabinet, couch, oscillating fan. This, Alexsi says, is our room for the night. He leaves with a, "look guys, I could get in a lot of shit for this, don't fuck with anything." lecture. We can't understand a word, but we get what he's saying. He turns, leaves, and closes the door. I roll out my mat on the floor next to a filing cabinet. During the night I really have to pee, but Alexsi has locked us in. I open the window and let it hang from the third story.
July 5
Angren, Uzbekistan
129 km
4429 km total
Morning hills and a nap in a shaded park across from the market. Freshly paved asphalt frustrates efforts before lunch. Clean bikes with gasoline while waiting for Brandt.
And then there were three: Alex, Brandt and me. The mixture of personalities is vast. Alex at one of the spectrum: the driven, focused, intense planner. Brandt at the other: vulnerable, dreamy, and leisurely. I can feel the inevitable clash from the moment we leave the hotel and Brandt declares that we must backtrack to pick up his bike pump from the Peace Corps house; he'd forgotten it there yesterday. He just can't seem to get on top of things.
Tailwind! We're flying, and the scenery is changing. Oh Nathan, just one more day and you would have seen it: snow-capped peaks!! Strong, excited and cruising, we're pushing it hard. I feel strong, and hammer it. Brandt, ten days off his bike, is struggling to keep up. He's left dropped as Alex & I crush the hills. We've logged 90km by lunch. We're anxiously logging the "wait for Brandt" hours, wondering how much longer he'll stay with us, but also concerned that he'd perish should he go it alone.
Before lunch freshly paved asphalt kicks up tar covered pebbles onto our gear. We're spotted with hardened tar that takes hours to clean off—hours we have as we await Brandt to catch up. Our lunch town, Angren, is a cool, tree-lined, but very Soviet looking place with sterile grey buildings on every corner. Bureaucratic government offices look no different from bookstores. We shop the market and duck into some trees near the center of town, finding a nice, shaded place next to some irrigation ditches to take a nap.
Every few kilometres a group of Uzbeks stand selling melon on the side of the road. No matter how large the melon supply, no matter how feeble the offering, there is never less than five of them, eager to make a deal. We start a new theme of jokes:
Q: How many Uzbek men does it take to sell 20 melons?
A: Eight. Seriously. It's not a joke.
Our leisurely afternoon takes us towards the Fergana Valley and up a river. The road twists along the river's edge with steep golden slopes on each side, dotted with herds of sheep and goats. As evening comes we camp roadside on as flat an area as we can find.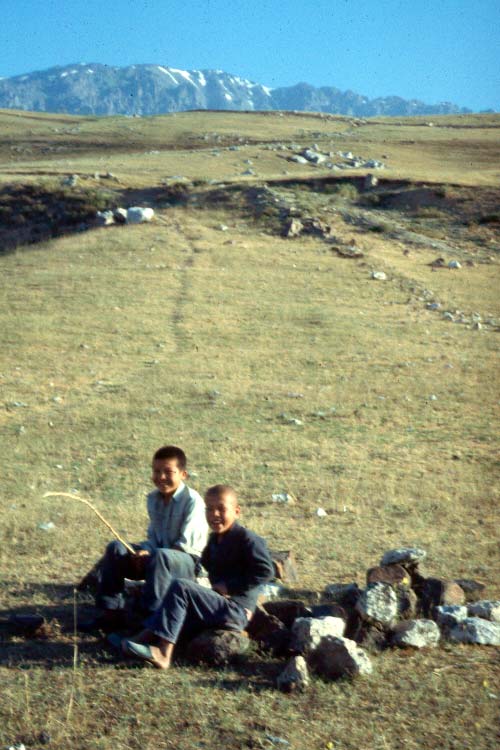 July 6
Pap, Uzbekistan
141 km
4570 km total
Morning climb up 19 km of switchbacks. Lunch at roadside khana at peak. 40 km downhill to Pap and China tour hats. "I try not to eat beef anymore…except when I want to."
This is our most scenic camp spot yet. We awake at 6am to see the sun just hitting the peaks above us. Two young boys, shy, with fresh buzzcuts, are curiously checking out our bikes. Smiling and giggling at our every move, I warm them up with a rendition of "Da Do Ron Ron", which they seem to like, but won't join in. We munch on flatbread and jam, ready for what looks like a day of climbing.
We whiz down short hills to the base of a feeder river valley, around the bend and back up again. The short, steep hills remind me of our Turkey days—so long ago! We pass young, smiling girls in colourful dresses who shout, clap and laugh as we pass. We have an hour or so of this pleasant riding when all of a sudden, wham! We're climbing. Hard. The road turns sharply to the right and we make the start the first of what will be 18 kilometres of switchbacks.
The climb is a crawl on a bumpy, curving road. Intermittent road crews seem perpetually five years or more behind the repairs. It's a graveyard of broken "Kamaz" trucks lining the road as we climb. Come to think of it, what do these drivers do if their truck breaks down? It's not like roadside assistance has taken hold here. I make slalom turns around truck parts. Ahead of me, Alex dodges a tailpipe, loses speed, and falls over. His cleat fails to release, and he hits the ground hard.
At the peak, at 2265 meters, it's time for lunch. We stop for "shashlek" and "salat" at the top of the pass Khana. Brandt passes on the shashlek, stating, "I try not to eat meat anymore, except when I want to." This has been one of the biggest climbs I've ever made. I guess there'll be a few more of these ahead.
What a downhill! After lunch, for nearly 40km, we cruise, virtually never pedaling or using our breaks. You can't get a better payoff than that. We leave the mountains behind us, giving way to brown, grassy foothills and the irrigated plains of the Syr Darya floodplain.
In the town of Pap, we come across a treasure: blue, foam-mesh ball caps with the words, "China Tour" screened on top. What a score! For days we've been seeing Uzbek kids wearing them. Now we found some of our own. We figure that these hats, combined with our IAX jerseys, will pretty much look like a legitimate uniform as we enter China. They'll just have to let us in. This is our ticket across Torugart. We eagerly pay the $2 for the pair. Brandt declines to participate. Pap is a mob scene in the market. Two women poke and prod my gear, one of them taking my water bottle. Despite my telling the fucking bitch to fucking fuck off, she keeps at it. But I feel better with that off my chest.
Groin chaffing is a bit of a concern. I'm finding that if I don't keep clean and cool, my inner thighs go raw. Despite this, I'm healthy and psyched. Tomorrow will be our last day in Uzbekistan as we climb the Naryn valley towards Toktogul.
Our campsite tonight is next to slow moving river, some 200m up a dirt trail off the main road, hidden by sandy, 10 foot mounds. For dinner, we shout: Pasta! Again! Alex makes a killer good chocolate pudding for dessert that makes up for the culinary monotony.
It's quiet and peaceful. I take a bath in a shallow pool, staring at the stars overhead.